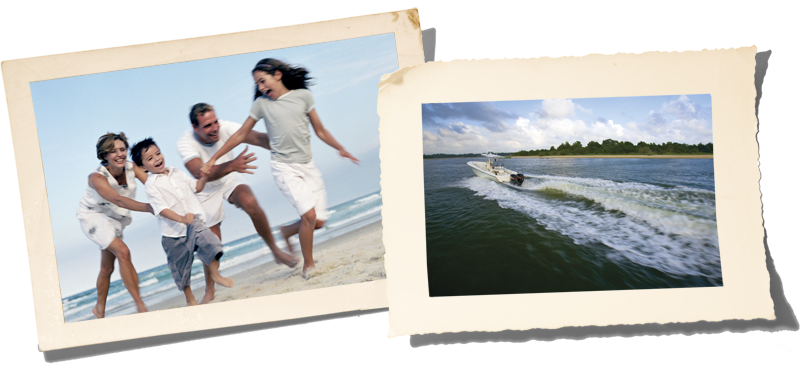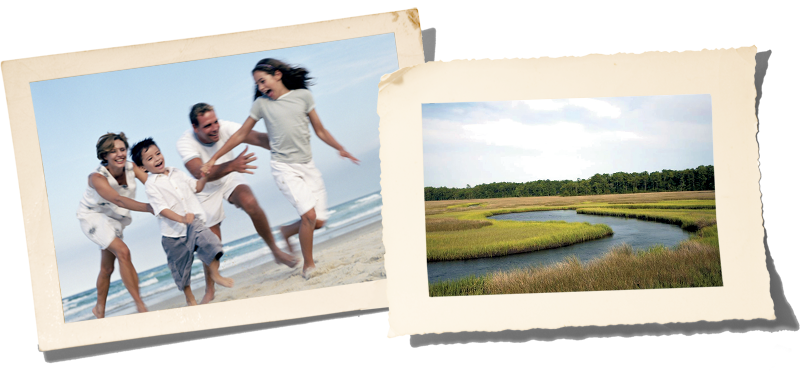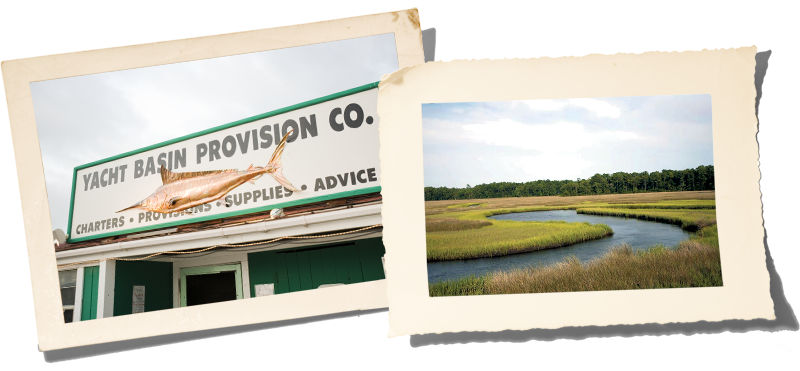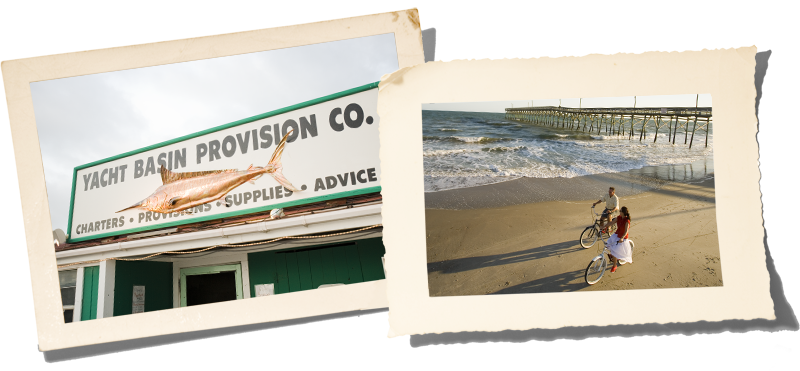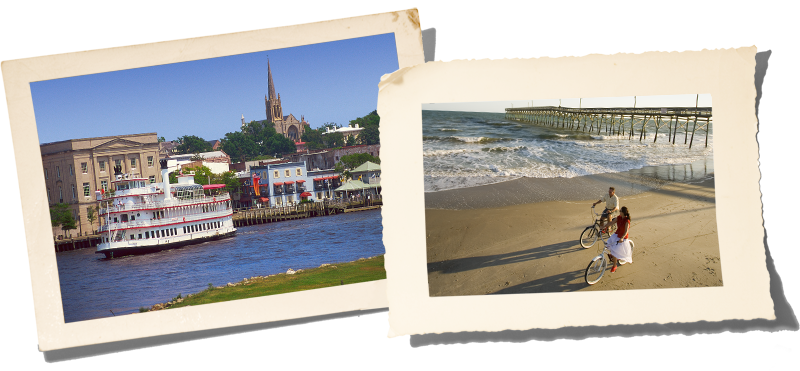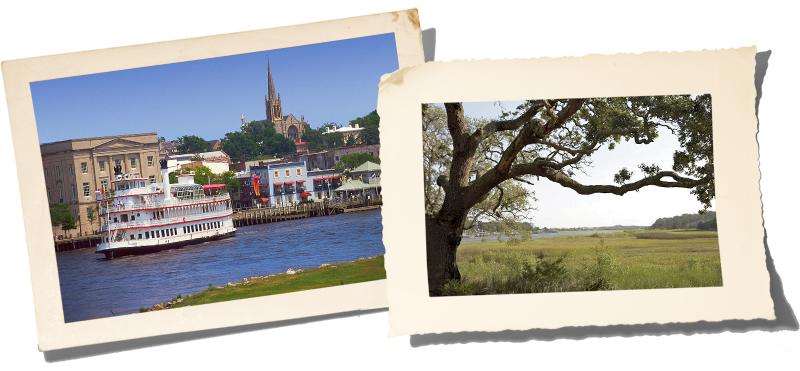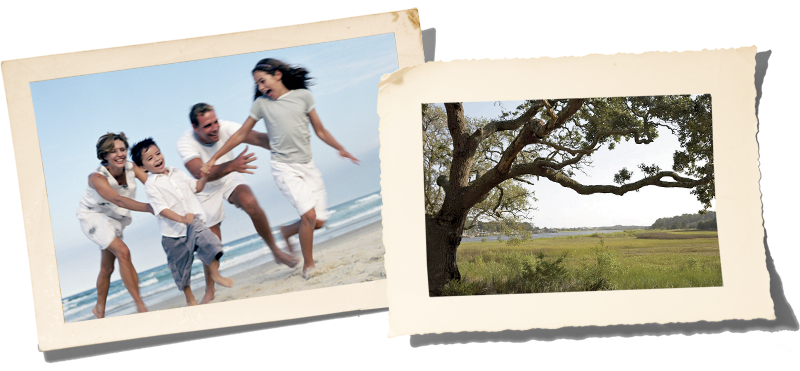 Southeastern North Carolina
Seawatch at Sunset Harbor is just minutes away from leisurely days at the beach, shopping, golfing, or fishing. The desirable coastal lifestyle of southeastern North Carolina features small town charm and modern city luxuries.
Southport
Only minutes away from Seawatch, Southport is a quaint fishing village with a long and colorful history. Two seaports were established along the Cape Fear River: the Town of Brunswick on the west bank in 1725, and New Carthage, incorporated as Wilmington in 1740. The River Pilots who guided ships through these rough waters settled in Fort Johnson, the site of what is now known as the town of Southport. Commissioned as a town in 1792, Southport was originally named Smithville after Benjamin Smith, who served under George Washington and eventually became Governor of North Carolina. Southport was given its present name in 1887 as the town attempted to establish itself as a major port after the Civil War.
Today, Southport still retains its small town population, brick streets, historic homes and storefronts. Residents are proud of their eclectic downtown business district teeming with antique stores, art galleries, boutiques, fine dining, the N.C. Maritime Museum, a first-class hospital, and some of the largest and oldest live oak trees in the area, including the 800 year old Indian Trail oak in Keziah Memorial Park.
Southport is also known for its annual traditions and historic sites including the North Carolina 4th of July Festival, the U.S. Open King Mackerel Tournament, the Southport/Fort Fisher Ferry, Orton Plantation Gardens, Brunswick Town, Fort Anderson, the Smith Island Museum and Old Baldy Lighthouse on nearby Bald Head Island.
As one of the top states for filmmaking, North Carolina has supported this specialized industry for more than 20 years with over 30 sound stages and seven major studio complexes. With the Screen Gems studio in nearby Wilmington, the area has served as prime locations for over 300 film, television, and commercial productions. Since 1984, the historical charm of Southport and Bald Head Island has been included in Firestarter, Crimes of the Heart, I Know What You Did Last Summer, The Wedding, The Secret Life of Bees, Sleeping With The Enemy, The Butcher's Wife, The Patriot, Divine Secrets of the Ya Ya Sisterhood, A Walk to Remember, and many more.
Oak Island
With an equally rich history and over 28 miles of coastline, nearby Oak Island was first established in 1826 with construction of Fort Caswell. In 1889, the Oak Island Lighthouse and Lifesaving Station was built to protect sailors from the dangerous mouth of the Cape Fear River. Once the Army Corp of Engineers completed the Atlantic Intracoastal Waterway in 1936, Oak Island began to develop into the beach town it is today. Founded in 1999 with the consolidation of Long Beach and Yaupon beach, Oak Island has a summer population of approximately 35,000 and has completed a second bridge connecting Oak Island to the mainland.
Our Northern Border
Just 40 minutes north, lies the 250-year-old port city of Wilmington. This is a beautiful "walking city" where you can stroll down lovely streets lined with 18th and 19th century homes and enjoy the meandering waters of the Cape Fear River. The city provides all of the modern day amenities one expects from urban living – and much, much more. Unlike most towns its size, Wilmington sustains a flourishing artistic community. In addition to having its own symphony orchestra, opera, and ballet company, the city is home to many active theatrical venues, art galleries, and film-making studios. There's always something to do in Wilmington as historic tours, restaurants, and retail stores abound in the scenic downtown district.
Our Southern Border
Just 45 minutes south you'll find the excitement of Myrtle Beach's famous "Grand Strand", where you can enjoy a variety of musical entertainment and shows, great restaurants, boundless shopping, amusement parks, excellent medical facilities, and more than 100 golf courses. Founded in 1938 and named in honor of its abundant native wax myrtle bush, Myrtle Beach lies between the Atlantic Intracoastal Waterway on the west and the Atlantic Ocean on the east. It is considered the #1 Family Beach in America and one of the most popular destinations on the east coast of the United States. Myrtle Beach attracts visitors from around the world each year to 60 miles of popular beaches, an aquarium attraction, amusement parks, nightclubs, fine restaurants, an international airport, and the largest shopping mall in South Carolina. A thriving live theater industry includes the Alabama Theater, Dolly Parton's Pirates Voyage, the Carolina Opry, and House of Blues. As the birthplace of a popular form of dancing called the Shag, Myrtle Beach offers a multitude of Shag clubs and yearly contests along Main Street and Ocean Boulevard. The area is also renowned for its oceanfront luxury hotels, resorts, and spas.